From my home office in Clifton Park, NY ("A Great Place to Live, Work and Play"), my 10 best jazz discs of 2011! Drum roll, please… NOTE: Readers without drums may bang on their desks – unless you're at work, in which case you should try to restrain yourself:
8. The SFJAZZ Collective's "Music of Stevie Wonder and New Compositions" (SFJAZZ)
For the last eight years, this rotating cast of demons has proved you don't have to treat tributes to jazz legends like High Mass at the Vatican. For this new 3-disc set (recorded live at NYC's Jazz Standard), SFJAZZ steps outside the box to laud R&B stalwart Stevie Wonder, with the result being their most satisfying package to date. The originals are hot, but SFJAZZ's takes on "Superstition" and "Sir Duke" just rock!
7. James Farm's "James Farm: Joshua Redman, Aaron Parks, Matt Penman, Eric Harland" (Nonesuch)
Four composers and three leaders on one CD should equal a monumental train wreck. But these four outstanding players have worked together – in various groups & combinations – for almost a decade, and chemistry overcomes math (or so I've heard). Every piece may have a single composer, but all the tracks have an undeniable air of collaboration. In the end, the whole IS greater than the sum of its parts.
6. Pilc Moutin Hoenig's "Threedom" (Motema)
"Groupthink" usually entails a single direction without individuality or creativity. "Threedom" blows that definition up real good as pianist Jean-Michel Pilc, bassist Francois Moutin and drummer Ari Hoenig show you can act as one unit and still craft unique visions. The group improvisations are indescribable, and the trio's listening skills are on a black-belt level as they re-work classics by Monk, Miles and Coltrane.
5. The Julian Lage Group's "Gladwell" (eMarcy)
Lage is the most interesting guitarist since Pat Metheny, with a sound that is equal parts jazz, folk, Latin and blues. He and his stellar group use all these styles – with some bluegrass and classical thrown in – to create an ornate, nuanced soundscape for a woman's return to her old home town. The imaginary town's not a perfect place, but that just makes Lage's concept more truthful – and more interesting.
4. Rudresh Mahanthappa's "Samdhi" (ACT)
Until now, Mahanthappa's East-meets-West musical efforts have been (primarily) acoustic; for "Samdhi," the altoist does the full Dylan-at-Newport and totally plugs in, complete with computer-driven effects and devastating guitar from shred-master David Gilmore. It's Weather Report does World Music, and it brings new meaning to the word "intense!" If this is Mahanthappa's new direction, I say, "Keep on going!"
3. Marcus Strickland's "Triumph of the Heavy" (Strick Muzik)
Strickland and his partners – drummer/brother E.J. Strickland and bassistBen Williams – have been re-defining what sax-trio jazz should sound like. You get plenty of that on "Heavy," courtesy of a live disc recorded in New Haven last year. But that's only half of "Heavy;" the trio becomes a quartet on Disc One, as pianist David Bryant lets the trio get even more interstellar while adding his own glowing "voice" to the mix.
2. Delfeayo Marsalis' "Sweet Thunder" (Troubadour Jass)
Some say it's impossible to improve on Duke Ellington's work; some say you shouldn't even try. Well, some people should shut their pie holes and listen to the least-known Marsalis' awesome re-working of Duke Ellington's tribute to William Shakespeare. Cutting down Ellington's suite from a big-band to an octet lets Marsalis present new insights into both the music and the Shakespeare characters that inspired Ellington. Sublime.
…and the Number One Jazz CD of 2011
 1. 
Jacob Fred Jazz Odyssey's
 "Race Riot Suite" (Royal Potato Family)
An African-American community in Tulsa was basically wiped out over two days in 1921, and then the riots were promptly wiped from state history books. JFJO slide guitarist Chris Combs' epic suite harnesses every emotion that could come from such a horrific act. Jacob Fred's unique neo-fusion gets more muscle from a heavyweight horn section featuring Jeff Coffin andSteve Bernstein. A required "history listen."
SAN FRANCISCO – Tulsa's native sons are on the road, telling a dark and painful story about a long-suppressed chapter of Oklahoma's history
At a performance two weeks ago at the Bay Area's premiere funk venue, Jacob Fred Jazz Odyssey settled into a rollicking locomotive groove evoking the territory dance bands that crisscrossed the Southwest during Prohibition. But when the group lurched suddenly into "The Burning,'' the second movement in its extraordinary, evening-length "Race Riot Suite,'' the wailing horns seemed to tear away the familiar, zany images of Lindy Hoppers, revealing the horrific, unpunished violence that reduced the nation's wealthiest African-American community to ashes.
In the midst of an extensive US tour that brings the band to the Boston area tonight for the first in a series of gigs at the Lily Pad, the quartet is focusing on music from its new album "Race Riot Suite,'' which was inspired by the 1921 pogrom that destroyed Tulsa's Greenwood neighborhood, the Negro Wall Street. Though the riot killed dozens and destroyed some 35 city blocks, leaving the city's 10,000 black residents homeless, it was largely covered up and left out of historical accounts until the state issued a formal report in 2001.
"I grew up in Tulsa and the first I heard about it was in high school, but there wasn't a lot of information available,'' said Jacob Fred steel guitarist Chris Combs, the suite's composer, over a meal with the band after the soundcheck. "I didn't realize it was the worst race riot in the country and that it was unique in so many ways. The information is out there now, but it's surprising how hard you had to look to find it.''
Jacob Fred roared out of Tulsa in the mid-1990s and built up an avid national following through incessant touring and a savvy balance of sonically expansive improvisation and inviting grooves. The name is the product of an absurdist sense of humor and doesn't refer to anyone who's played in the band, but the moniker stuck. After more than a decade as a trio, the group expanded to a quartet, and the latest incarnation features Kansas City, Mo., bassist Jeff Harshbarger, Tulsa drummer Josh Raymer, and pianist Brian Haas, the only original member left.
Just as significant as the fact that white Tulsans are shining a light on their city's festering history is the music itself. Combs's first extended work is a beautifully orchestrated, melodically rich piece that celebrates Greenwood as much as it laments the wanton violence that destroyed the neighborhood. He composed the suite for a nonet, and the band recruited an all-star horn section for the recording, including Sex Mob trumpeter-arranger Steven Bernstein, who joins Jacob Fred on Oct. 20, and Kansas City, Mo., tenor saxophonist Mark Southerland, who plays on all the Lily Pad dates.
"It's brilliant, some of the best writing I've ever played,'' said Bernstein, an esteemed arranger who writes for his own large ensemble, the Millennial Territory Orchestra. "With horns, most people write the same old thing, with the horns blocked together. This is more like Mingus or Thad Jones. Each horn has its own melody, not just stacked harmonies. As a horn player, there's a lot of room for individual expression in each line. He sounds like he's really inspired by the 1920s, but he's not trying to re-create anything.''
Beethoven provided another source of inspiration. In spring 2010, the quartet was neck deep in "Ludwig,'' a project presented by the OK Mozart festival featuring Jacob Fred's collaboration with the Bartlesville Symphony Orchestra playing jazz-tinged arrangements of Beethoven's 3d and 6th Symphonies. After wrestling with the scores for eight to 10 hours a day – hardly the typical fare for a steel guitarist – Combs found himself working through musical ideas in the wee hours, devising melodic fragments and lines. At the same time, he was reading into the history of the 1921 attack. His emotional response infused the music, but the suite didn't start to coalesce until a European tour.
"Chris kept bringing in these incredible themes and progressions and I realized he isn't working on a couple of pieces, it's a long-form work,'' Haas recalled. "We're fans of Ellington's suites, but it was out of Beethoven that we started conceiving this. It's our first record where there's one composer top to bottom. That's totally changed my concept of what this band can be.''
The suite has also radically changed the band's relationship with its hometown. Jacob Fred premiered the seven-part suite at the Tulsa Performing Arts Center in May, just days before the 90th anniversary of the deadly riot. Weeks later the band returned to perform a concert arranged by members of the city's African-American community. "It's definitely provoked a lot of arguments and discussions,'' Haas said. "I can say it feels like the ancestors gather whenever we play it. There's the sensation of something much bigger than us going on.''
Huffington Post on the Race Riot Suite
by Adrian Brune
In 1964, at the height of her jazz career, Nina Simone threw off the pop constraints of her record label, American Colpix, and decided to record the personal, which for her, was the political.
On her debut album for Dutch Philips, Simone sang "Mississippi Goddam", her response to the murder of Medgar Evers and the Birmingham church bombings. It marked one of the first times an artist of her standing and generation laid down a track motivated by a racial tragedy. From that point, Simone's recording repertoire always included a civil rights message.
In 1964, however, little was known of the lynchings and race riots that swept the country at the turn of the century. Nearly 50 years after Simone spoke out and 90 years after the worst one – the Tulsa Race Riot of 1921 — racial disparity has become a core thematic underpinning for the Jacob Fred Jazz Odyssey, an ensemble out of Tulsa. On August 30, the quartet released The Race Riot Suite, a roughly 50-minute jazz piece that tells the swinging, cacophonous, revivalist story of Tulsa's all-back Greenwood district – the thriving neighborhood targeted and then obliterated by the 1921 Tulsa Race Riot.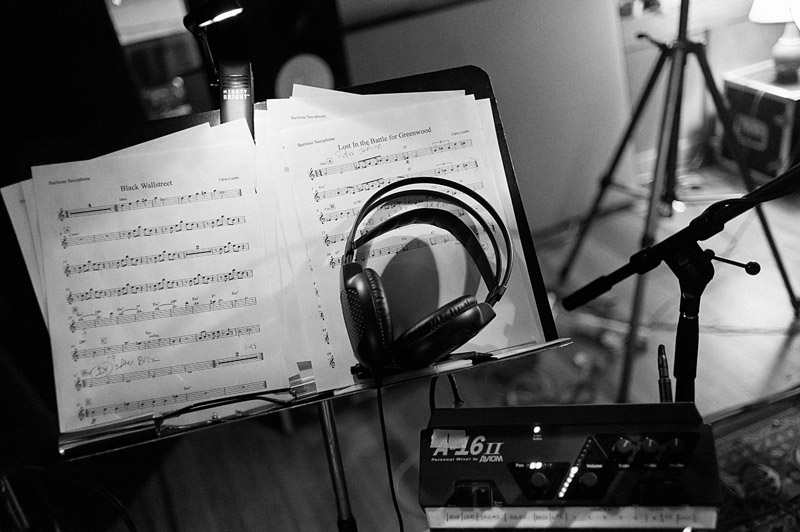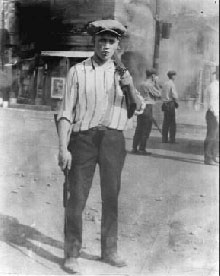 "I was born and raised here in Tulsa and didn't know anything about the riot until 2003. The information was out there, but it was always surprising how hard it was to get," said composer Chris Combs, a recent full-time addition to the Jacob Fred Jazz Odyssey, which has been performing in Tulsa for almost 20 years. "Once I started reading and realizing how much there was to it and how much had been covered up and marginalized, it was deeply imprinted on me."
Those impressions translated into musical vignettes for Combs – a page here, a note there, then a history chapter read and a stanza written. Soon, Combs had devised a series of songs and which developed into an entire CD of music about the Race Riot. While the band toured in Europe, he added the finishing touches, and they decided to record it upon returning home.
"We had wanted to do an ensemble album, so we pulled together all these horn players and landed the Church Studio, Leon Russell's place, to produce it," Combs said. "The church was built in 1916 and it was there during the race riot; it was the right offering space for our record."
And the jazz gods were pleased, if not necessarily the Tulsa community at-large.
Jacob Fred's Race Riot Suite, which made its international concert debut on the 90th anniversary of the riot in May, landed at number six on the iTunes Jazz Store the day of its release, alongside new albums from Barbara Streisand, Tony Bennett, Pat Metheny and Bela Fleck & the Flecktones. It has remained in the top ten.
The jazz critics have lauded praise, as well – some even calling it "Duke Ellington under the direction of Tom Waits." JazzTimes, the magazine of record for the jazz industry, had this to say: "…the music of the 1920s is suggested by devices borrowed from New Orleans' Louis Armstrong and Jelly Roll Morton and from Tulsa's own Bob Wills. But those 90-year-old techniques often morph suddenly into the dissonance and harmolodic improvisation of modern jazz."
Indeed the album sways in the appropriate places and cries in others. Conceived as a baroque suite, its first movement "Black Wall Street" glides through a night of dancing and celebration and conveys the bustle, excitement and independence of Tulsa's all-black Greenwood District. On "The Burning," the horns sizzle and shriek with explosive fury as the white mob descends on Greenwood and the riot begins. The songs "Grandfather's Gun" and "Cover Up" articulate the fear-and-greed-driven racism that both fueled the riot itself and drove its eventual marginalization.
The seven movements are punctuated with free-form improvisational interludes, including "Prayers", which is filled with mourning and introspection and "Mt. Zion", which is Combs' ode to the historic Greenwood church built, destroyed and built again. The cathartic final movement, "Eye of the Dove", expresses the hope and victory of a rebuilding community that has refused permanent destruction.
Though Greenwood residents and others near the heart of downtown Tulsa have embraced the Race Riot Suite, welcoming the chance for reconciliation, others have not. Combs said it's less about the music than it is about the subject.
"It's such a pointed and deliberate piece of material, and it's tied to that event in real life, so it's going to carry a certain emotional weight," Combs said. "People take it seriously, and some people see the point of reconciliation; others wonder why we're still talking about it.
"It's definitely an art work that puts it in front of your face, and at least people cant say they don't know anything about it anymore."
Jacob Fred Jazz Odyssey (JFJO) will be performing their just-released "Race Riot Suite" at Tulsa's All Souls Unitarian Church on Wednesday, September 14, 2011 at 7:00 p.m The group will also be playing excerpts of the Race Riot Suite during its fall tour, which hits New York on Oct. 18 & 19 at the Jazz Standard.
Relix on the Race Riot Suite recording
A First Look at Jacob Fred Jazz Odyssey In Studio Recording

The Race Riot Suite:
Jacob Fred Jazz Odyssey just emeregd from the Church Studio in Tulsa, OK studio where it recorded The Race Riot Suite. Based on the 1921 Tulsa Race Riot, the suite is written by Chris Combs for the Jacob Fred Jazz Odyssey quartet (Brian Haas piano, Chris Combs lap steel, Josh Raymer drums, Jeff Harshbarger bass). The band just finished recording with guest horn players Jeff Coffin (Bela Fleck & the Flecktones, Dave Matthews Band), Steven Bernstein (Sex Mob, Levon Helm), Peter Apfelbaum (Hieroglyphics, Don Cherry) and Mark Southerland (Snuff Jazz).
In 1921, Tulsa, Oklahoma was home to the most powerful and affluent African-American community in the country. In one of the largest racial conflicts and cover-ups in America's history "Black Wall Street" was burned to the ground. The Race Riot Suite is a long form musical work that tells the story of the evolution, destruction, and silencing of one of America's greatest cultural epicenters.
Here is a look at the sessions, as photographed by Jeremy Charles >>>>>  See full article and Photography here.
JAZZTIMES reviews Stay Gold
It's unclear if Stay Gold, the title of the second recording from the latest lineup of pianist Brian Haas' band, is a reference to the words of wisdom the doomed Johnny imparts to Ponyboy in S.E. Hinton's The Outsiders and Francis Coppola's film adaptation of the novel.  But it's apt, as the classically trained Haas stays true to his artistic integrity by keeping his Tulsa group in a state of constant evolution and rebirth.
After morphing from a sprawling jazz-funk outfit with horns to an experimental-leaning trio and sometimes quartet with longtime bassist and guitarist Reed Mathis, Haas in 2009 officially split with Mathis and solidified a lineup with drummer Josh Raymer, lap steel and dobro player Chris Combs and upright bassist Matt Hayes.  The four specialize in a new – to JFJO, at least – type of jazz-rooted fusion, a sprawling, rambling instrumental Americana hinting at everything from Texas swing to psychedelic rock to the dynamic compositions of the Brian Blade Fellowship.
It's all vaguely cinematic, starting with the soaring guitar melodies and swelling and receding grooves of opener "The Sensation of Seeing Light," which unfolds as a series of small musical dramas – oozing lap steel, fluttering piano, slamming piano, and bass declarations.  "David" is a haunting ballad informed by a pop sensibility that suddenly turns dark with big minor-toned chord splashes.  A funk groove drives "Song for Lauren," and the title track boasts a slowly unwinding melody as graceful as it is elegant, surrounded by moments of sonic chaos.  Ambitious, unsettling, unclassifiable.
-Phillip Booth
DOWNBEAT reviews JFJO's premier of LUDWIG
More often than not, aspiring jazz artists from around the world who seek to drink deeply from the jazz fount emigrate to New York.  Of course, there are numerous exceptions to relocation, like the Jacob Fred Jazz Odyssey, which, since 1994, have evolved it's unique jazz voice based smack dab in Tulsa, Okla.
The JFJO collective – led by pianist Brian Haas and today comprising lap steel guirarist Chris Combs, bassist Jeff Harshbarger, and drummer Josh Raymer – staged an impressive event on June 12that arguably would have never happened had the group transplanted itself to New York.  JFJO delivered a largely successful melding of jazz and classical music in an evening billed as "Ludwig."  The concert featured the quartet with the 50-piece Bartlesville Symphony Orchestra conducted by Lauren Green as Beethoven's Third & 6th symphonies were re-envisioned with a jazz sensibility.  The show attracted a nearly full house at the 1.700-seat Bartlesville Community Center (an hour's drive northeast of Tulsa).
The concert turned out to be a tour de force of jazz melded with classical, with a call-and-response component through Noam Faingold's unorthodox-but-respectful arrangements.  Staying true to Beethoven's melodies, countermelodies and compositional intent, Faingold allowed space for pockets of improvisation and chose different instruments to cover solo parts.  For example, Haas played piano on what were violin spotlights in Beethoven's original scores.
The JFJO presided as the dominant factor, with the orchestra supplying the dynamics, providing the sheer volume to the shifts in tempo and rhythm, and responding to the call in the piano and lap steel lines.  The first half of the concert featured Beethoven's Symphony No. 6, the lap steel opening with a  peaceful, countrified feel.  The piece's rural joy was interrupted in the lyrically cacophonic fourth movement, a musical rendering of a torrential thunderstorm characterized by Haas' forceful, driving pianism, Comb's eerie, FX'd lap steel voicings of anticipation and Raymer's pounding drums.
After the intermission, JFJO and orchestra performed a jazz-infused take on Beethoven's Symphony No. 3.  The first movement was forceful, the second sober, the third set loose in a scampering scherzo vibe and the fourth, the climax, a slow-to-burn thriller.  The jazz playing was at times exclamatory with strong rhythmic punctuation points, Raymer's drumming taking on a swinging tango-tinged groove in the second movement.
-Dan Ouellette
JAMBANDS.COM reviews Stay Gold
Jacob Fred Jazz Odyssey (JFJO) hails from Oklahoma, and has been playing for nearly two decades. And throughout that time, the troupe has existed in varying forms ranging from a funk-laden octet to a tightly coiled trio. Now, as a quartet, their brand of instrumental jazz simply bypasses the traditional – or even the avant-garde for that matter – to land somewhere near the extraterrestrial. And on their latest LP, their 20th record to date, Stay Gold, JFJO may very well have bridged the gap between wake and sleep with an eight song sensory odyssey that plays much like a sonic phantasmagoria with sounds turned hallucinations, both celestial and bizarre. But it has always been the nature of jazz to cultivate in artists their affinity for invention, and it's there that JFJO truly revels, and Stay Gold excels.
The ethereal soar of opener, and album single "Sensation of Seeing Light," may very well have its roots in the metaphysical experience that its title suggests. Based around a hauntingly melancholy riff that comes via Chris Combs lap steel, the song's moving emotions function as its point of focus. Band founder, Brian Haas, meanwhile provides key strikes through an unaffected piano that dance about the center, infusing the tune with a sense of movement and progression that, like many songs on the album, happens not in fits and stops, but rather in a shapeless, nearly amoebic flow. No clear edges exist, as listeners simply fall into the center of sound, enhancing the feeling that this is not your normal music listening experience, as no doubt, JFJO has intended. Comparisons to acid-jazz forefathers like Weather Report, could be drawn, yet San Franciscan, psych-jazz troupe, Mushroom, have a far more fitting likeness.
As expected, there's quite a bit of experimentation throughout the album that music fans will particularly find pleasing to their sense of intellect. ButJFJO wisely strikes a balance between the progressive-jazz cerebral – songs whose time signatures are nearly algebraic in their complexity ("Trampoline Phoenix," "This Our Home") – with more visceral grooves immediately compelling of one's need to vibe ("Hamby's Window," "The Return"). But perhaps no song represents a more eloquent, delicate unison of mind and body as the title-track. A sumptuous euphony of sound, Haas weaves a transfixing piano melody that mesmerizes the brain with its intricacy, while remaining tethered to the here and now by the primal thump of the rhythm section. And it's here, between Coltrane and Yeasayer, Mingus and Animal Collective, and the very real sense of adventure, that JFJO truly find their stride, and Stay Gold, shines awfully bright.
by Fady Khalil
Murphy's Law reviews Stay Gold
Steel (guitar) This Album
I've long maintained that the judicious use of steel guitar is always one of the ultimate secret weapons of any musical act. I've just never said it out loud. Well, I'm saying it now.
And let's face it, it's not terribly often you see the lap steel broken out by an act that is not either wearing cowboy hats or singing gospel songs (and I say that without an ounce of snark).
Maybe you've heard of the Jacob Fred Jazz Odyssey. Maybe you have not. Either way, if you like jazz, or are trying to get a handle on a good example of "modern" jazz, or –most importantly– if you just have an open mind and dig good sounds, whoever is making them, their new album, Stay Gold should be on your short list.
Suffice it to say, steel guitar in jazz is unusual, as is a jazz band from Tulsa, Oklahoma. For those two reasons alone, these guys are worth giving a shot (I also say that with an utter absence of sarcasm or snark). Their music has been affectionately (and, if I may say, brilliantly) called "Red Dirt Jazz", and I think that works. Pretty tasty, huh? As you can see (and hear), JFJO is a standard jazz trio (piano, bass, drums) and the aforementioned lap steel. Frankly, these compositions would be inviting and memorable as "straightforward" trio numbers, but the addition of Chris Combs's lap steel gives the work a slightly haunting edge. As a result, the music is more than merely memorable; it is exhilarating and often irresistible.
Stay Gold is a pleasant surprise in 2010, and I have bookmarked this band as an act I would go out of my way to catch in concert. If you're not inclined to drop the ten bucks (or less) this would cost you to download, and you are the iTunes song-by-song selecting type, I'd suggest you start with any of these three songs which, for me, are the highlights of this highly recommended new release: "The Sensation of Seeing Light", "Hamby's Window" and "This, Our Home." I can't stop listening to the latter song and, I suspect, you may have the same problem. It's a good problem to have.
Stay Gold just may steel your heart (I say that, too, without snark but with a bit of embarassment; I just couldn't help myself).
STATE OF MIND reviews Stay Gold
One Night in Brooklyn, Jacob Fred Jazz Odyssey's first disc with newest recruit Chris Combs, was a stunning set of one-take wonders — emphasis on "wonders," since that kind of consistent brilliance rarely happens right out of the box, even if all you're playing is cover tunes. Stay Gold is what happens when a group this good takes a little time, and the new guy brings his own stuff to the table.
Combs announces his presence immediately on "The Sensation of Seeing Light," which he co-wrote with keyboardist Brian Haas: Combs' lap steel sings mournful, echoing notes over Haas' piano fills and the rhythm section's foundation figure. Combs moves closer to the front as bassist Matt Hayes and drummer Josh Raymer cranks up the groove under Haas' peerless counter. "Sensation" is a good trip that only gets better when Haas' lines get more operatic and Combs' fills go completely mental. The ride is over relatively quickly, but then rollercoasters do their thing in less time, and they're not as exciting.
Even though every piece on Gold gets wrapped around some kind of groove, JFJO eschews the tried-it's-true, solo-centric Jam Band framework in favor of joining forces to tell one story — or paint one scene — with each piece; the story may be complex as hell, and the scene may have a ton of elements, but the experience is a lot richer than just listening to musicians get their individual ya-ya's out: Haas' "Trampoline Phoenix" communicates the childhood fun of bouncing up and down with your friends, becoming darker when "the big kids" get in on the action; Raymer's "Song for Lauren" is a beautiful dobro-laced trip through the country with the one you love; and Hayes' bluesy waltz "This, Our Home" offers up a safe place from the tumult that is the everyday.
Combs' exemplary guitar work helps Haas' personal direction-change from Fender Rhodes to acoustic piano, and provides the effects that disappear with the Rhodes' minimization. This move doesn't lessen Haas' creative scope — if anything, Combs' addition as foil and second solo voice sends Haas further out into space, which is a beautiful thing for anyone familiar with Jacob Fred's electrifying dynamic. Stay Gold is another move from a band that's constantly evolving, and as always, this iteration is a little better than the last one.
by J Hunter August 30, 2010